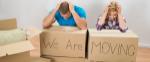 ---
Working through a Permanent Change of Station (PCS) may be a very stressful time. There is so much to do, and so much change is happening. Add to that the misfortune of PCSing during a pandemic, and you might be feeling especially overwhelmed. You may be moving very far away from friends, family, and other supports. You may be leaving the Marine Corps. You may have lost a beloved family member or friend to COVID-19.
All of these stressors, and more, can compound to create an especially difficult PCS season.
Fortunately, there is a place you can go—the Community Counseling Program (CCP). At CCP, you can talk with a trained professional about the stress you may feel and how to manage it.
Marines, Sailors, and their families may access help directly through CCP offices located on installations worldwide. Talk with your local CCP for scheduling and availability.
So check yourself. If you are struggling with any of the following, reach out to CCP today:
Feeling deep sadness
Feeling very worried
Feeling disoriented and confused
Feeling sluggish and hopeless
Withdrawing from loved ones
Experiencing uncontrollable anger towards others
Hurling insults, starting fights
Feeling paralyzed by an inability to make decisions
Failing to maintain personal hygiene and appearance
Thinking about harming yourself
For typical, everyday challenges while working through PCS stress, check out free psychological health apps. You can use these apps to manage stress on the go, directly from your smartphone.
PCS is a significant life transition that may affect you or your family members in profound ways. So this is the time to take advantage of services the Marine Corps offers.
Don't hesitate to call CCP and get the assistance you have earned today. Remember that the DSTRESS Line is available for you and your family members 24/7 if you need to talk to someone.
Additional resources for help
If you are active duty and feel stressed, one of the best things you can do is to contact an Operational Stress Control and Readiness (OSCAR) team member. They are trained to understand stress, its impacts, and how to manage it. Additional support resources include Chaplains, Military OneSource, Community Counseling Centers, and the DSTRESS Line (1-877-476-7734).
If active duty or a Marine spouse, we encourage you consider Families OverComing Under Stress (FOCUS) resiliency training for yourself and your family. Visit the FOCUS website to find helpful resources for working through challenges caused by COVID-19. You can also contact your FOCUS trainer, who has the ability to meet with you in a video format.
If you are a Marine, or a partner or parent, we encourage you to call the Military & Family Life Counselor (MFLC) duty phone. You may even be able to schedule a video chat with a MFLC to take place in the privacy of your own home.