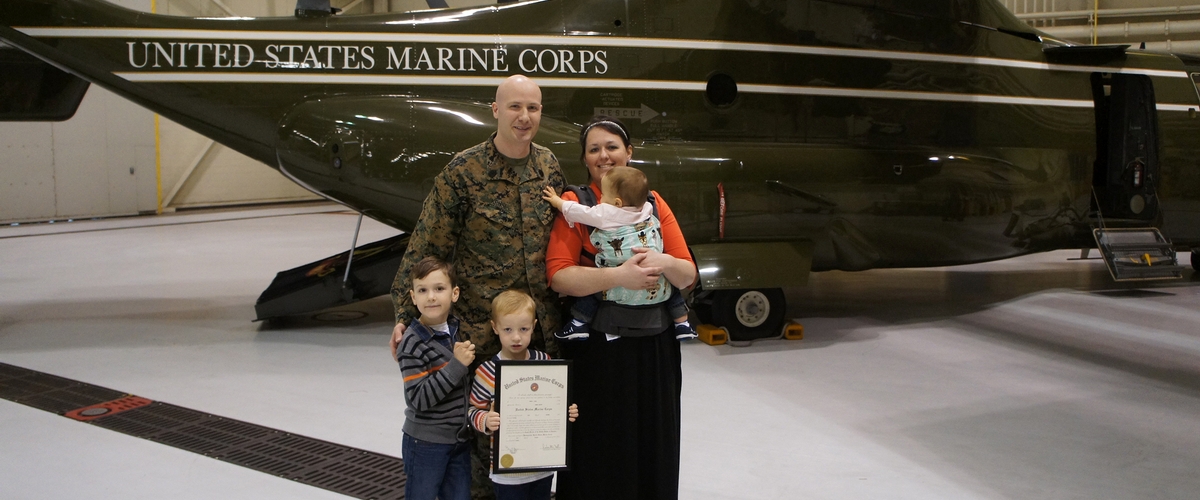 ---
Gunnery Sgt. Cameron Kruse's promotion on November 1, 2016. One day prior to Gabriel's first birthday seen with his wife Skyler Kruse, Gabriel Kruse, Josiah Kruse and Alexander Kruse holding promotion certificate.
---
The Marine Corps lives and breathes by its service motto "Semper Fidelis," which demonstrates the connectedness Marines have for the Marine Corps, their unit, and their brothers and sisters in arms.
The Exceptional Family Member Program (EFMP) improves the quality of life for Active Duty Marines who support a family member with special needs by ensuring access to necessary medical care and educational support. This is especially important during Permanent Change of Station (PCS) assignments. EFMP supports families before, during and after a PCS to ensure a seamless transition.
In 2008, an EFMP Functionality Assessment found that 70 percent of Marines believed EFMP enrollment would limit assignment opportunities critical for promotion. Using recommendations from EFMP-enrolled Marines, family members and other stakeholders, EFMP adjusted its assignment process, removing categories and their associated pre-determined geographic assignment restrictions, making all EFMP-enrolled Marines eligible for worldwide assignment. A subsequent 2011 study found the negative perception was much reduced, but not eliminated.
In 2016 Headquarters, U.S. Marine Corps Operational Analysis Division launched a study to determine if this stigma had any empirical justification. The analysis of the impact of EFMP enrollment on individual Marine career progression and promotion looked at career length, highest grade achieved and time to achieve the Marine's highest grade. 20,692 EFMP participants (March 1989 through December 2015) were matched to all nonparticipants who were an exact duplicate at the time of enrollment for the following six characteristics: age, sex, race, years of service, grade, and occupational field.
"Using the most rigorous analysis available, the study determined there is little evidence of any negative impact on career progression and promotion due to EFMP enrollment," said Jennifer Stewart, the EFMP Section Head for Marine and Family Programs Division, Headquarters, U.S. Marine Corps. "Not only did we find that career advancement was not distinguishably impacted by EFMP enrollment, we also learned that, on average, EFMP enrollees serve slightly longer than their non-EFMP Active Duty counterparts, achieve a slightly higher grade, and the majority achieve that high grade in the same or shorter amount of time than the average of their non-enrolled peers."
The study validates that the program meets its intended purpose - to support the assignment of Marines to locations with appropriate resources for their family members, while not negatively impacting career progression and promotion of Marines. "We are so pleased to finally have data which tells a very positive story about the success of EFMP-enrolled Marines. We'll be using the results of the study to address any lingering stigma and hope that Marine leaders, at all levels, will use this information when they talk about EFMP's role in personal and family readiness," said Stewart.
Gunnery Sergeant Cameron Kruse experienced this faithfulness firsthand through his use of the EFMP. Kruse said it starts with simple communication. "EFMP helped me get my family to the right location which helped with readiness and to get us the assistance of medical care my family needed to keep us all 'in the green,' ready for our next PCS assignment."
Kruse and his wife, Skyler, were expecting their son, Gabriel, when they learned that Skyler was ill, resulting in a premature birth. While healthy today, Gabriel struggled with complications, needing to spend time in the Neonatal Intensive Care Unit (NICU) as well as requiring extensive follow-up care.
Kruse said he did not know at the time that EFMP was collaborating with many military and community partners to assist in meeting his family's needs. "It hit home when I learned EFMP was behind the scenes, which helped me to understand at a personal level the heart of EFMP," said Kruse. "My wife and baby received the highest level of care. EFMP wasn't just another acronym to me. The work will be done and wherever you go, it is the best fit for you as long as you are working with EFMP."
Everything Kruse needed was provided. "The family housing was the largest piece," he said. "We were able to move to a one story home from a two story and the coordination to assist us with the move was available to me and there was no cost to my family," said Kruse. "The right people were in the right places." Despite Gunnery Sergeant Kruse's circumstances, he was not hindered in his career progression, receiving a promotion 10 months later.
If you have a family member with medical or educational needs, please contact your local EFMP office. To read the report, or to learn more about the Exceptional Family Member Program and the variety of services they provide, click here. To read the complete report, please visit the Manpower and Reserve Affairs website at https://go.usa.gov/xXRky.